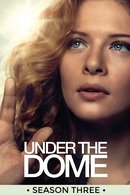 Under the Dome Season 3 episode 10
Season 3 of Under the Dome premiered on June 25, 2015.
The residents of Chester's Mill appear both inside and outside the Dome following their mysterious encounter in the tunnels beneath the town. As the Dome begins to reveal its ultimate agenda, the townspeople are forced to question what and whom they can trust as fresh threats appear, new residents emerge and surprising alliances form.
Type: TV
Episodes: 13
Score:
Duration: 42 min
Quality:
HD
Years: 2015
View: 807
ServerLanguageQualityLinks